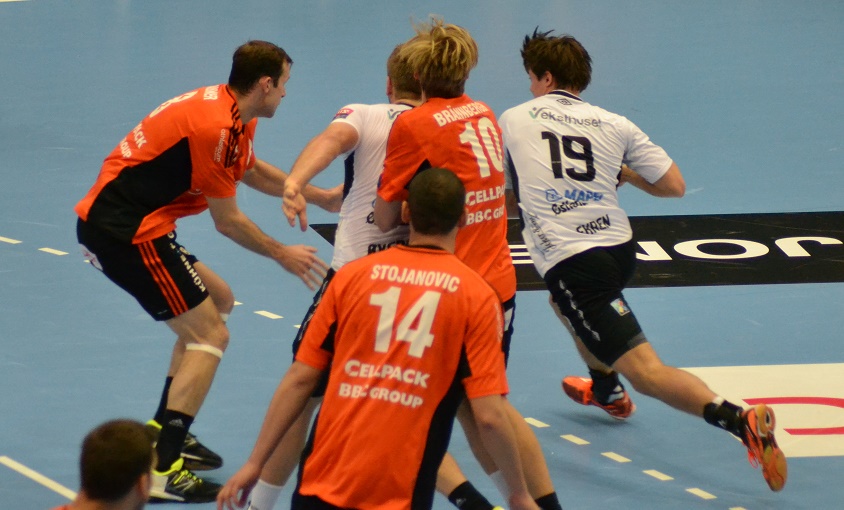 Hardworking Kevin Gulliksen, not enought for Elverum in Switzerland.
English summery from match between Kadetten Schaffhausen and Elverum Handball Herrers
Elverum played Thursday there first Champions League match in Group C against Kadetten Schaffhausen. Elverum came to Schaffhausen with the faith in victory after they beat the same team in Switzerland two years ago, in the meanwhile, Kadetten has been in Group A / B in the Champions League, barely got points there and was beaten in Switzerland by Bjerringbro-Silkeborg where Elverum Kristian Ørsted played last season. That tell us a little about which team Elverum came to Switzerland to meet.
Schaffhausen starts the battle in Switzerland and gets technical failures in its first attack. It gives Elverum the opportunity to take the lead from start, but Elverum also rotates and gives a counter to the Swiss, but Elverum runs to defense. Kadetten then puts the match's first from the right-hand side, Morten Nergaard doesn't have a chance. Magnus Fredriksen then scores the first Champions League goal for Elverum, before André Lindboe contests 2-1.
Magnus Fredriksen continues to work, Elverum gets a penalty and André Lindboe scores, 3-2 to Elverum after just 5 minutes.
Fredriksen is a new in Europe but knows how to play against the Swiss, beautiful input to Orri Jonsson makes a penalty, and André Lindboe is still safe 5-3 in 8 minutes. Manuel Liniger reduces for Kadetten after Elverum hijacks the ball but loses the ball and it takes no time before Liniger settles to 5-5. Ørsted tries to hijack the ball inside the line, but Kadetten take him down, new punishment and 2 minutes to Kadetten, but this time Lindboe miss.
Kadetten increases to 9-7 at Manuel Liniger, open goal and 2 goals lead. Then Richard Hanisch finally gets his first goal, on penalty, almost outside but it is in. Then Kevin Gulliksen is back runs and settles down to 9-9. Gulliksen snaps up the ball beautifully, runs from everything and everyone and thunders his fourth in the evening, then Kadetten Schaffhausen takes time out with 10-9 lead to Elverum!
Kadetten gets a new 2 minutes suspension for Tominec, takes down Magnus Fredriksen, but Fredriksen tricks into 9-11 in Switzerland. Orri Jonsson is once again played by Fredriksen, and the Icelander puts his first Champions League goal! 10-12 and Elverum in the lead when the clock shows 22 minutes of the 1st round.
It turns fast in Schaffhausen and Kadetten is in the lead 14-12, when 5 minutes remains of the 1st round, the timeout card comes from Michael Apelgren. The end of the 1st round becomes tough for Elverum, but they fight and does not let Kadetten slip away, break on the position 17-15, and Kadetten must start the 2nd round with a player less after a new 2,minutes suspension.

It's Tominec and Kadetten which sets 2nd round first goal, and a new scoring straight after, before Kevin Gulliksen sets the first for Elverum 19-16. Luka Maros sends the ball hard past Morten Nergaard and Kadetten is up to 20 against Elverums 16 in 3 minutes of 2nd round.
Vegard Bakken Øien has taken over the goalkeeper's job after a heavy battle so far for Nergaard, and Bakken Øien is really in mode with brilliant rescues from the start. 22-19 is the position after just over 10 minutes, thanks to a highly skilled and fast running Kevin Gulliksen who is involved in everything! An angry Brannberger at Kadetten, ends with 2.minutes suspension and suddenly after it's Richard Hanisch who sets his fourth for the evening. 23-21 and Elverum is in the game again, so Lindboe send a flying ball from his own wing to Kevin Gulliksen who beautifully puts it.
In the midle of second round Elverums struggling to score, suddenly it's 28-23 and Michael Apelgren has to take a timeout. Goalkeeper Stevanovic in Kadettens playes well, it is difficult to put the ball past a goalkeeper that is everywhere againt Elverum! Kadetten scores in any position, while Elverum is struggling to finish, hardworiking Kevin Gulliksen who runs and  scores 8 goals in the game of the evening, is not enought. It ends 36-30 in Switzerland. Elverum's newcomers Kevin Gulliksen and Magnus Fredriksen deliver a great match. Gulliksen is without doubt Elverum's bestp player tonight. Show what he can do in his first Champions League match. Not a good day for Elverum goalkeepers who have to see 36 goals pass by and in to the net.
Loss against one of the group's supposed strongest teams in the first match, Elverum never gets really dangerous when it comes to it, after to many goals againts. New match in Eliteserien back in Norway Sunday, away game against Bækkelaget is on the run.
Then the Halden in the Cup awaits before a new Champions League match comming up in Terningen Arena next Saturday when Skjern comes to visit.
Match facts:
Kadetten Schaffhausen – Elverum
BBC Arena
Spectators: 1050
Elverum:
Kevin Gulliksen (8), André Lindboe (5), Richard Hanisch (5), Magnus Fredriksen (4), Aleksander Børresen (4), Nikolaj Mehl (1), Jonas Burud (1), Thrainn Orri Jonsson (1), Håkon Ekren (1)
Kadetten Schaffhausen:
Luka Maros (6), Gabor Csaszar (5), Vladislav Ostroushko (4), Manuel Liniger (4), Nik Tominec (4), Michal Szyba (4), Johan Kock (4), Pouya Norouzinezhad Hharehlou (2), Maximillian Gerbl (2), Christoffer Brännberger (1)